Sioux City North High School


Class Of 1979
In Memory
Blaine Anderson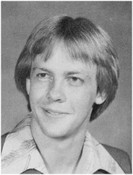 Blaine C. Anderson

Blaine Cle Anderson, 45, of Sebring, Fla., formerly of Sioux City, passed away Thursday, Oct. 12, 2006, in Sebring.

Services were held Oct. 17 at Stephenson-Nelson Funeral Home in Sebring, where the Rev. Richard Norris officiated.

Blaine was born Dec. 7, 1960, in Sioux City, to Bill and Donna (Stinger) Anderson. He had been a resident of Sebring since 2004, coming from Lillington, N.C. He was employed by Jacobs Sverdrup Company as a range operations technician at the Avon Park Bombing Range Management. He retired as a master sergeant after 25 years in the U.S. Air Force and had served in Korea, Panama and Iraq.

He was a member of Trinity Lutheran Church in Lake Placid.

He is survived by his wife, Deana (Hegna) Anderson of Sebring; his parents, Bill and Donna Anderson of Sioux City; a daughter, Kimberly (Fernando) Paz of Sebring; two sons, Adam Anderson of Sebring and Kyle (Laren) Anderson of Cheyenne, Wyo.; a sister, Lori Anderson of Omaha; two brothers, Darin Anderson of Omaha and Andrew Anderson of Colorado Springs, Colo.; and two grandchildren, Leighland Paz and Kayden Paz.