Sioux City North High School


Class Of 1979
In Memory
Ron Damrau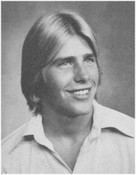 Ronald G. Damrau, 21, 3700 28th St., died Wednesday in a Sioux City hospital of injuries suffered in an automobile accident July 28 in Sioux City.
Services will be at 2 p.m. Saturday in the Glendale Baptist Church. The Rev. Jack L. Heckart will officiate. Graveside services will be at 10 a.m. Monday in Graceland Park Cemetery under the direction of the Nelson-Berger Northside Chapel.
Mr. Damrau was born May 10, 1961, at Sioux City and was a life long resident. He attended public schools and graduated from North High School in 1979.
He served in the U.S. Navy and was employed by the Alpine Carpet Cleaning Service.
Survivors include his wife, the former Jane Schuetz of South Sioux City; a son, Jon Dwayne of South Sioux City; his parents, Leonard Damrau of Worthington, Minn. and Geraldine Damrau of Sioux City; a brother, James of Mount Pleasant, Iowa and three sisters, Mrs. Joseph (Cinda) Plendl, Lisa, and Susan, all of Sioux City.