Sioux City North High School


Class Of 1979
In Memory
Lynne Halweg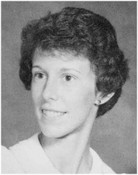 Lynn R. Bergeson
Lynn Renee (Halweg) Bergeson of Payson, Ariz., formerly of Sioux City, passed away June 26, 2007, in Payson.

Services were held July 6 at Messinger Payson Funeral Home in Payson. There will be a gathering of friends and family at 3 p.m. Sunday at Lynn's parents grave site (near Babyland) in Memorial Park Cemetery, Sioux City.

Lynn was born May 18, 1961.

Survivors include a son, Christopher, 16; a daughter, Amy, 11; her siblings, Terry Halweg of Sioux City, LouAnn and her husband, Charlie Sutton of St. Louis, Mo., Randy Halweg and his wife, Karla Herman of Sioux City, Russell and Mary Halweg of Denver, Colo., and Patrick and Tere Halweg of Mesa, Ariz.; three nieces, Heidi Sutton, Heather Halweg and Aubrey Halweg; and a nephew, Dillon Halweg.